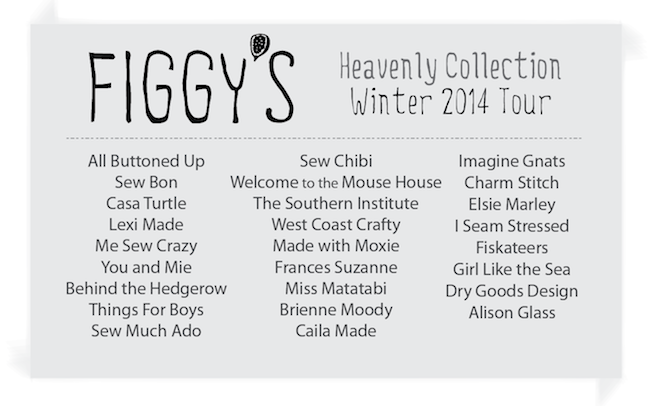 26  talented bloggers & designers during the entire month of February are sewing a pattern from the Heavenly Collection!  First up is the super creative and fun Sew Chibi!  She's a local Portland gal with the biggest heart and  two adorable little girls (and one on the way).  Most recently you'll find her work in STYLO magazine featuring a tutorial on how to make a "Bumble Pocket Scarf".   Thank you so much Kataryna!!  

Each day stop at the next blog (just click on the blog name above) for a chance to win a Figgy's pattern!!

Here on the Figgy's Blog you can enter to win a grand prize!
A special thanks to the following prize donors!
So what's the big prize you ask?
Here's the list!
Fiskars Fabric Shears, Detail Scissors, Rotary Cutter and Extra Blades
Bernina Rolled Hem Foot & Buttonhole Cutter
$25 Gift Certifcate from Girl Charlee 
A stack of gorgeous Fat Quarters from Alison Glass 
Beautiful Eyelet yardage from Michael Miller
A lovely stack of Fat Quarters from Art Gallery Fabric
 Susan Beal's new book "Easy Embellishment"
The Heavenly Bundle Collection from Figgy's 
Well, what are you waiting for...ENTER TO WIN NOW!!  
Winner will be announced March 3rd, 2014
Happy Sewing - shelly
tomorrow a feature from All Buttoned Up...a gal I adore and highly respect as a doer, giver & friend. 
---