What an amazing week Figgy's tour is heading into!
Monday 
Tuesday
A blog full of talented 
designers, and most recently the creators behind STYLO magazine.
I have followed and admired Cherie for so many years now and am so proud to have her on the tour. One of my most favorite series is on her blog

Japanese Sewing Series

. 
Wednesday 
Laura from Behind the Hedgerow
Sewing: girls, boys, women, men, toys and accessories.  The mastermind behind this blog has sewn it all! My favorite is to read her sewing conversations and thoughts as much as I admire her other talents.
Thursday
Kelley from Casa Crafty 
She has DIY,  a shop & 365 days of makes all lined up.  
Not to mention Kelley cracks me up!!!  Talent and funny..great combo!
Abby from Sew Much Ado
First I can't help but state that she is one of the sweetest gals you'll ever know!!  
Pattern designer, blogger, tutorial writer of so many great projects and almost mommy of 4!
I'd say thats a pretty good line up for this week!  Be sure to stop at each blog this week because I think some are hosting a giveaway!  Enter below all month to win the grand prize too!
Happy Sewing - Shelly
---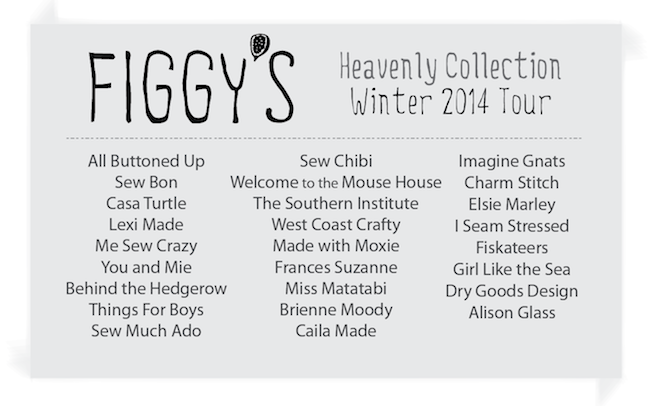 26  talented bloggers & designers during the entire month of February are sewing a pattern from the Heavenly Collection!  First up is the super creative and fun Sew Chibi!  She's a local Portland gal with the biggest heart and  two adorable little girls (and one on the way).  Most recently you'll find her work in STYLO magazine featuring a tutorial on how to make a "Bumble Pocket Scarf".   Thank you so much Kataryna!!  

Each day stop at the next blog (just click on the blog name above) for a chance to win a Figgy's pattern!!

Here on the Figgy's Blog you can enter to win a grand prize!
A special thanks to the following prize donors!
So what's the big prize you ask?
Here's the list!
Fiskars Fabric Shears, Detail Scissors, Rotary Cutter and Extra Blades
Bernina Rolled Hem Foot & Buttonhole Cutter
$25 Gift Certifcate from Girl Charlee 
A stack of gorgeous Fat Quarters from Alison Glass 
Beautiful Eyelet yardage from Michael Miller
A lovely stack of Fat Quarters from Art Gallery Fabric
 Susan Beal's new book "Easy Embellishment"
The Heavenly Bundle Collection from Figgy's 
Well, what are you waiting for...ENTER TO WIN NOW!!  
Winner will be announced March 3rd, 2014
Happy Sewing - shelly
tomorrow a feature from All Buttoned Up...a gal I adore and highly respect as a doer, giver & friend. 
---
Hello Everyone!!!  
What a joy it is to welcome a new year!  2013 was full of up's and down's and life's little challenges but I'm hopeful that through it all we learn and evolve into what is meant to be.  I'm going with the glass is half full attitude!  
I have blessings to count and people to thank for all the up's of 2013.  
So if you have a moment to read on please do.  
As you probably may have noticed I took some time off from publishing patterns to focus on teaching children (and some adults too) how to sew.  By the end of 2013, Three Hundred and Twenty (320) kids walked through my home studio door and I have the community to thank for that!  At the end of 2012 I attempted to raise money to open a store front and was able to raise over $4000.00 and although that was not enough to open a shop it was enough to update my home studio with all the things we needed to teach, and over $3000 was given to children in need of sewing scholarships!  Every dime was put to good use and we have over 320 kids walking around town in their own handmade garb and accessories!  It is my greatest joy seeing the smiling faces after they've created something themselves.  Donations will continue to be accepted if you ever find yourself with extra fabric or thread just email me and I'll send over all the information you'll need to donate.  If you would like to sponsor a child in need, in the way of a scholarship that can also be arranged.
 Some great news for those that live too far from my home studio....this week I'll be finishing up the filming of an online class that is especially for your young sewist at home!!  (more info coming soon)    

This past October I had the pleasure of working with my son's schools HOPES committee on an exciting project. On March 8th of this year, Figgy's sewing Studio in collaboration with Hallinan Elementary School's HOPES commitee is hosting a "Sewing for Shriners" day.  Hallinan school is opening the school's gymnasium for an all day Kids sewing for Kids day!!  The chairperson for HOPES has a daughter that has had multiple surgeries at Shriners Hospital and each time she has had surgery she is double wrapped in a very itchy and ugly adult gown (a great word for this gown ...depressing). They don't have children's gowns and we are going to change that!  So far we have had 8 bolts of fabric donated!!  A special thanks to Robert Kauffman & Art Gallery Fabrics for donating fabric for our cause!  If you happen to have extra flannel fabric yardage in good condition or thread please send me an email and I can send over a donation document and information as to where you can send fabric/notions to help this cause!  OR if you'd like to sew a gown yourself and mail it in for the day's event I will send you information on that too!  Just email me at shelly@figgyspatterns.com!  
Have a look at the "before & after" the last time this sweet girl went in for surgery: 
Ahh! The Robert Kauffman Balloon Flannel is SO MUCH BETTER!!!  (Fabric by Anne Kelle)

I would like to thank A Common Thread studio for providing my students with the best of the best in sewing machines.  Laura Wallace-Dickson, owner of A common Thread and Bernina have provided 6  Bernina 350 sewing machines and 2 Bernina Sergers for my students to learn.  If you live in the area and are looking to purchase a new machine she and her employee's are extremely knowledgeable and can direct you to the best machine suited for your needs!  If you are currently a Figgy's student they offer 10% off just for you!!  I'd also like to thank Bolt Fabric Boutique in Portland and The Pine Needle in Lake Oswego for offering all Figgy's students a discount on supplies for classes!  Your support for Figgy's Kids is greatly appreciated!!  

The last "up" for 2013 was releasing a new collection.  It had been about a year and it was time.  It was important to me to have this new pattern collection full of staples so I went with a bit more on the stylishly simple rather than the super expert chop full of details patterns.  I wanted to provide sewists with a wardrobe that can be created in just a weekend and have it full of garments that can be worn all year long by simply layering or using as is.  If you missed the release in November then I give to you the "Heavenly Collection".    The official pattern tour will begin in February with a ton of fun bloggers sewing up their new favorite Figgy's look!  Stay tuned for more details coming soon!

 To kick off 2014 I'm super excited to be a sponsor in the upcoming KCW (Kid's Clothes Week)  January 27th - February 3rd!!  This is one of my favorite blog follow alongs and this year I'm even hoping to participate!  Meg & Dorie are hosting a great line up of guest posters:   Laura from behind the hedgerow, Brienne from briennemoody, Sanae from sanaeishida, and Tara from girl like the sea. These talented women have some fantastic posts in store for you. I hope you are able to follow along too!

Lastly, I'd like to thank two people that recently helped me release this new site and new patterns.  Rob Alan my visual designer and Susan Yates a brilliant graphics gal and more!  I wouldn't have been able to move forward with a new collection without you!  
Thank you!
I look forward to a very fun and creative 2014!!!!
And thanks to YOU for sticking around all these years watching me evolve and grow!!!
-Happy Sewing
Shelly

---
daniela June 18 2012,

12 Comments
or as I like to call her, "Tang" (short for her website name tangerinesamurai.com )
I "met" Daniela on flickr in 2009 while I was still living in Ohio.  I believe it was these photos that drew me in.
Who wouldn't be drawn to that beauty of a fabric!  After I moved to Oregon I was teaching private sewing lessons and during one of my lessons I kept talking about "Tangerine Samurai" and how enamored I was with her work.  I knew she lived in Portland but I hadn't had the chance to connect with her.  One of the gals I was teaching happened to know her and secretly surprised me by having her come to her home during one of the lessons.  She introduced herself as "Daniela" and I just kind of stood there for a second and then she said "Tangerine Samurai" and let out a tiny scream and jumped for joy, I was a little star struck.
Luckily for me, we became and stayed friends.
Her work as a designer is a true gift for us all. In the 90's she worked as a Designer in the Global Sport Apparel Industry.  Throughout those years, she held leadership positions at Adidas, Nike and Columbia Sportswear.  She created financially successful performance apparel designs that you may actually have hanging in your closet.  She has her own design company The Gestalter.  She had her own successful yoga line called "Seek" and currently freelance designs for the company RYU.  She is also a wife, mother, knitter, quilter and fabric designer!  She designed 90% of the fabrics used in the Sewing For Boys book and a few projects for Modern Log Cabin Quilting by Susan Beal.    My goodness woman!
I'm writing about Daniela today because she is first, a wonderful human being, soft spoken, honest and patient.  I was floored when she said she would like to work with me and I jumped at the chance to have her as a partner.  She is an amazing co-owner & partner.  I feel very blessed to know her and work with her.
Since I've been around longer and my name is attached to Figgy's I get a lot of credit for what should be hers.  When we talk about credit she simply says that it's not her or me it's Figgy's as a team.  I would call that selfless on her part for sure.  75% of the time it will be me you'll see hanging around the Internets and answering emails because I love to do that, but please remember Figgy's is a team of two.
Thank you Daniela for being you and teaming up with me.  Figgy's is evolving into the wonderful small business that it is today because of you.
Happy Sewing-  Shelly
---