One year ago I came across this post  and instantly fell in love with everything my eyes laid eyes on.  I loved the girls, the clothes and I especially fell in love with Alexia's eye for just the perfect fabric.  I go into quilters cotton overload sometimes with it's over use in garments and it was refreshing to see a talent such as Lexi using gorgeous garment fabrics. (Don't get me wrong I love a nice quilters cotton just like the rest of you but it's not meant for EVERY garment.) In September of 2013 I see this post and am blown away.  I thought to myself, this girl has some serious talent and I must get to know her and I would love to work with her.  So I went for it and asked if she'd like to work with me on a new pattern and a few months later I'm so pleased and proud to announce the newest Figgy's pattern by Alexia Sotelo.
"Eos"
goddess of the dawn
  
This gorgeous dress is a treat for little ones for all special occasions or for the very girly girl.  Complete with 9 perfectly placed pin tucks, gathers at the shoulder, fully lined with a beautiful scoop back and adorned with the most professionally placed bow.  Alexia you have out done yourself!
  

 

 
The "Eos" dress will be available April 1, 2014 in PDF format.  But.... I'm so happy to report that you can purchase the PDF pattern beginning today for 20% off!  Please use coupon code LEXI20 when purchasing.  This coupon code is good for only 1 week so grab your pre-sale pattern now!  And I can't release this special pattern and hand out a special early bird coupon without some sort of a fun giveaway can I?  Enter below to win a copy of the EOS PDF pattern along with 2 yards of gorgeous Michael Miller Eyelet fabric to create your own special dress.
Happy Sewing-
Shelly
---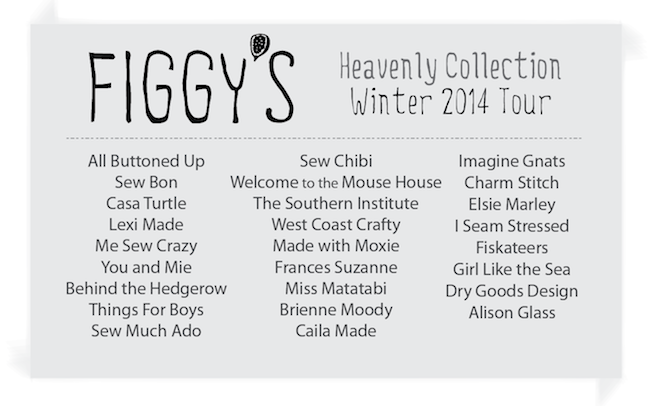 26  talented bloggers & designers during the entire month of February are sewing a pattern from the Heavenly Collection!  First up is the super creative and fun Sew Chibi!  She's a local Portland gal with the biggest heart and  two adorable little girls (and one on the way).  Most recently you'll find her work in STYLO magazine featuring a tutorial on how to make a "Bumble Pocket Scarf".   Thank you so much Kataryna!!  

Each day stop at the next blog (just click on the blog name above) for a chance to win a Figgy's pattern!!

Here on the Figgy's Blog you can enter to win a grand prize!
A special thanks to the following prize donors!
So what's the big prize you ask?
Here's the list!
Fiskars Fabric Shears, Detail Scissors, Rotary Cutter and Extra Blades
Bernina Rolled Hem Foot & Buttonhole Cutter
$25 Gift Certifcate from Girl Charlee 
A stack of gorgeous Fat Quarters from Alison Glass 
Beautiful Eyelet yardage from Michael Miller
A lovely stack of Fat Quarters from Art Gallery Fabric
 Susan Beal's new book "Easy Embellishment"
The Heavenly Bundle Collection from Figgy's 
Well, what are you waiting for...ENTER TO WIN NOW!!  
Winner will be announced March 3rd, 2014
Happy Sewing - shelly
tomorrow a feature from All Buttoned Up...a gal I adore and highly respect as a doer, giver & friend. 
---
UPDATE!!!  Pattern sale extended through Cyber Monday!!!  Dec 1st woohoo!!!  I am so thankful for your continued support over the years!  Enjoy the sale!
This Friday (November 29th, 2013) is known as Black Friday and Figgy's will be offering 20% off all patterns for Friday only!!  Please enter discount code HAPPY at checkout to receive 20% off!  Also, a reminder to the bundle lovers…..Thursday is the last day to get your hands on the Heavenly Bundle then it goes away forever!
---