bubble fun March 11 2014,

1 Comment

Ethereal Tunic without the frill and added a bubble hem.
What can I say about bubbly skirts, tunics and dresses other than they are too cute!  I love that you can take a plain jane tunic and turn it into a fun bubble tunic in just a few extra minutes.  Today I'm visiting Simple Simon & Company showing you how to do just that!  For the garment I sewed in the SS post I used a gorgeous Art Gallery fabric and for today and tomorrow only you can enter to win a nice fat quarter stack from Art Gallery.  Thank you AG!  As always your premium cottons are amazing!

a Rafflecopter giveaway
---
what a week! February 15 2014,

8 Comments
What a beautiful week on the Figgy's Heavenly Tour!  
Some of it was a little blurry for me because I caught a flu that led to bronchitis then pneumonia. That was fun (insert sarcasm).  Luckily I have an incredible husband and mother that took great care of me and I was able to keep up a bit by iPhone but its times like this that I yell at my inner self "Hire An Intern!".  
What really kept my spirits up was seeing all the wonderful posts from these awesome creators!
 
 

 

 

 There are some amazing crafters showing off their Figgy's Creations this week so make sure to come back and check them all out!
And don't forget to sign up to win a huge prize at the end of the month!!!
HAPPY SEWING - Shelly
---
What an amazing week Figgy's tour is heading into!
Monday 
Tuesday
A blog full of talented 
designers, and most recently the creators behind STYLO magazine.
I have followed and admired Cherie for so many years now and am so proud to have her on the tour. One of my most favorite series is on her blog

Japanese Sewing Series

. 
Wednesday 
Laura from Behind the Hedgerow
Sewing: girls, boys, women, men, toys and accessories.  The mastermind behind this blog has sewn it all! My favorite is to read her sewing conversations and thoughts as much as I admire her other talents.
Thursday
Kelley from Casa Crafty 
She has DIY,  a shop & 365 days of makes all lined up.  
Not to mention Kelley cracks me up!!!  Talent and funny..great combo!
Abby from Sew Much Ado
First I can't help but state that she is one of the sweetest gals you'll ever know!!  
Pattern designer, blogger, tutorial writer of so many great projects and almost mommy of 4!
I'd say thats a pretty good line up for this week!  Be sure to stop at each blog this week because I think some are hosting a giveaway!  Enter below all month to win the grand prize too!
Happy Sewing - Shelly
---

Happy Sewing - Shelly
---
This week I shared an Ethereal tunic using Glitz fabric and mentioned I would be writing a bit about a couple different ways you can use the pattern to make it your own.  My mother joined in on the fun and added little touches to each of the garments for my niece.  On each piece she hand stitched a heart somewhere on the garment and gave Ofelia the task of trying to find the little hearts, some obvious and some slightly hidden.  I think this is a great little thing you could do on multiple garments during the month of February or just once on their outfit to wear on February 14th.
The first way to change up the blouse to offer a different look is to simply not use the frill in the front.  Some girls just aren't frilly or you're a really smart seamstress/pattern maker and while putting together the instructions for the pattern you completely forgot to add it!  (haha)  Well a little error ended up being a great opportunity to show off this goodie. 
 She used the running stitch to create this little heart inside a heart, a blanket stitch along the neck line and another running stitch along the hem. Mom also added a little heart cut out for the undershirt using Heat Bond (love). For this blouse I used Robert Kauffman Essex fabric that had lovely drape and is super soft.
To pair with the blouse I add a UFO sitting in a box from almost 2 years ago that just needed buttons and a little extra love.  The fabric I used for this Ayashe skirt was something Karen from OGC  had found and made some yummy Dillinger pants with and I was instantly hooked.  I found some at JoAnns and I bought 4 yards of it  (4 years ago) because it had such nice drape. Whenever I come across a piece I think of her.  
Mom added red topstitching and a little heart.
Next up a bubbled Ethereal blouse.  For this look we omitted the frill once again and simply add 2" to the bottom of the Ethereal tunic hem length and cut 2 for the main and cut 2 for a lining then bubbled (tutorial coming soon).  We used the long sleeve option but angled the sleeve slightly to give it a feminine touch.   Fabric is by Bernatex. Can you find the heart? 

Lastly, I had created this Ethereal blouse when I was writing instructions for the pattern and there are no changes just a cute crocheted heart for a special touch.  The fabric used was a brushed cotton I found at EE Schenck when picking up supplies for a sewing class. Super soft and perfect for the chilly weather season.  
I would love to see how you make a Figgy's pattern your own so upload a photo on the Figgy's Facebook page, flickr group or share on Instagram and use hashtag #figgys.   
Next week on the blog: 
Beginning on February 4th the "Heavenly" pattern tour begins with a ton of wonderful bloggers/designers showing off their little or big Figgy garment!  Stayed tuned to hear all about a BIG GIVEAWAY at the end of the tour!!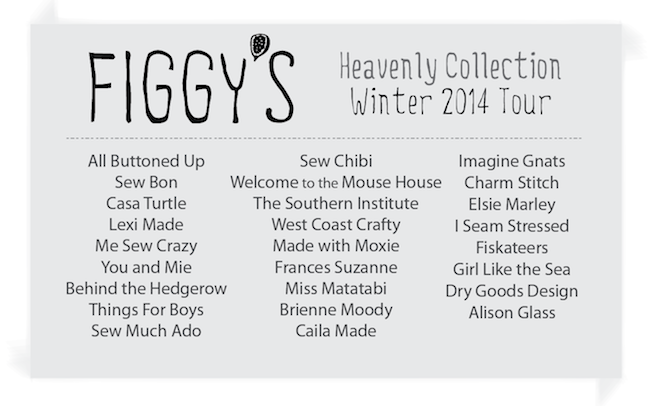 Happy Sewing - Shelly

---
A few weeks ago I had the pleasure of "meeting" Lou from "Wotsybaby", a blog about raising her daughter in a gentle and creative way.
 This super gal has allowed me to post about her recent creativity, making the Sunki with knit fabric.  I love it when sewists take patterns and made them their own and lucky for us she's sharing a "how to" with us!
From Lou:
When I decided I wanted to make this dress (Figgy's Sunki! so lovely!) out of a non-woven fabric, I searched to see if anyone had done it before and had any tips. I didn't come up with anything so thought I'd document what I did here to make it easier in case anyone else wanted to change it up!
 1. The first thing is to size down. I have made this dress before in a quilting-weight cotton for my average-sized almost 5 year old and it fits well. Just right in fact (so not much growing room). I thought if I made the knit version in the same size, then we'd get a bit more wear out of the garment. It's quite loose now and she tells me it's very soft, comfortable and slinky! I could have made it in a size down for it to fit perfectly now. The fabric is a bamboo jersey and was great to sew with. I used a jersey needle (important tip#1.1) and a stitch that looks like a little lightning bolt that has lots of stretch (zig zag setting with a 3.0 length and a 1.0 width). I used my serger for some of the edges but not all of them (the bits around the armholes seem softer if they're not finished).
2. I eliminated the zipper by cutting the back piece on the fold.
3. I didn't bother with the facings and instead cut 2 pieces of 2×2 rib knit (the grey pieces around the neckline). The back piece is 1 5/8″ x 13.5″ and the front piece is 1 5/8″ x 13″ (I probably should have made them slightly – 1/2″? – shorter. So next time I would make them 1 5/8 x 13 and 1 5/8 x 12.5). I put them on in the same way as the Envelope t-shirt in the book Growing Up Sew Liberated (which I'd just made a few weeks before (I'm paraphrasing from the book for this next bit, I couldn't come up with this genius!): Sew one long edge of front binding to front with lightning bolt stitch and right sides together. Gently stretch binding to fit. Press binding away from the front and turn the binding edge to the wrong side, encircling seam allowances and press. The raw edge of the binding will extend just below the seam on the wrong side of the front, then zig zag stitch (small zigzag) on the right side of the front along the bottom edge of the binding, just above the previous seam. On the wrong wide, the raw edge of the binding will be caught in this seam, finishing the binding. Repeat the entire step for the back and the back binding.
4. Instead of using the fold guides for the sleeves, I measured and marked 3″ over from the centre fold line on each sleeve (so 6″ total on each sleeve) and sewed a basting stitch 1/4″ from the edge. I pulled the threads tight and it was a perfect fit for the armhole once I put the sleeve in. (I sewed the sides first and put the sleeves in in the round which is my preferred method. It was no problem!)
5. I decided that the dress would be cool if I changed up the side panels but didn't use a different colour of fabric so I freezer-paper-stenciled the stars. It's awesome! I used Pebeo shimmer opaque fabric paint in Silver. Amazing stuff.
That's It!
Things I would change for next time:
1. Use stay tape on the pocket fronts. The pockets stretched out quite a bit when I sewed them – a bit of stay tape around the curve where the pockets meet the front piece would help I think.
2. Make the pockets deeper. The pockets on this dress are not quite deep (I agree Lou) enough for a small lady's hands or other trinkets. I think I will do this with any future Sunki dresses I make, knit or woven. With the knit fabric though, the pockets have a tendency to flop out if there's vigorous movement (which is pretty much constantly!)
3. Put a bit of stay tape around the shoulders on the sides where the front and back overlap for about 3 inches. As Sylvie has worn this dress, one shoulder might flop off her shoulder (which she thinks is daringly grown-up and fancy but I don't know if she needs an off-the-shoulder dress… hm). I think cutting the rib knit binding a little smaller (as mentioned above) would help to tighten it up a bit as well). Now that it's been sewn up I think I'll just do a few tacking stitches where the two pieces of gray rib meet at the shoulders.
It was a fun project and a very wearable dress. I think it might be one of her favourite garments I've made for the little miss!
Lightened Version so you can see more detail. :)
Thanks Lou for sharing!!!  If you followed along with this post and create your own knit Sunki we'd love to see!  Share in the Flickr group or on Facebook!
Now, on to the saleS, yep I said sales with an s.
First up a Figgy's sale!  In celebration of nothing but a little warmer weather here in Oregon I'm having a 15% off sale on all paper patterns from April 5th - 12th!  Please use code SPRING15 to receive the discount!
Next a Craftsy class special!~  If you haven't tried taking a class online via Craftsy then this is the perfect time to grab one.  I had a ball filming this class and the reviews coming in are all positive, woohoo!
Just click the banner below!!  The sale begins today and ends on April 8th!  So hurry before Monday and grab the class but then take the class whenever you like, it never expires!!
---